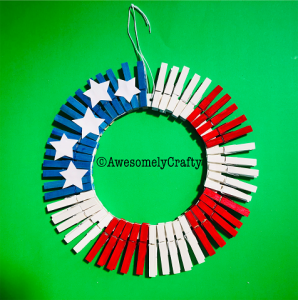 4th of July wreath with clothes pins. Easy and fun to make with kids. 
or follow the directions below. 
You will need:
Wooden clothes pins
Paper plate (you can also use cardboard)
String
Hole puncher
White cardstock paper for the stars
Blue, red and white paint
Scissors
Glue
Cut out the center of the paper plate and punch a hole on one end. 
Pass the string in the hole you just punched in order to be able to hang your wreath. 
Paint the wooden clothes pins in blue, white and red. You will need 16 blue ones, 15 red ones and 20 white ones (you can paint more or less depending on the size of the wreath that you wish to make).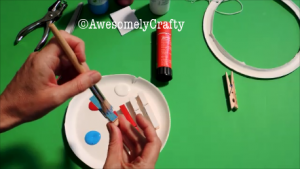 Once the clothes pins are dry, you can start clipping them on the paper plate. Take the top of your plate (where you have punched the hole) and start putting on 5 white clothes pins to the right of the hole, followed by 5 red ones.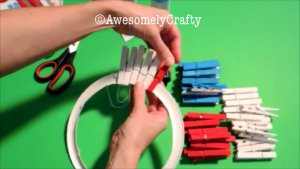 Continue alternating red and white clothes pins 7 times in total. Then pin on your 16 blue clothes pins.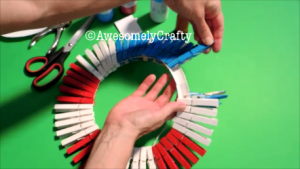 Cut out starts in the white cardstock paper and glue them on the blue clothes pins.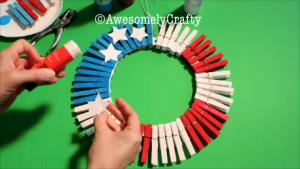 Your craft is done! Hang it on your front door for decoration! 
Make sure to follow us for more awesome crafts