Have fun making this adorable Mother's Day craft that Mom will treasure forever. It's fun and easy to make!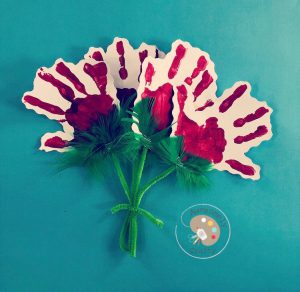 You will need:
White paper
Red paint
Green feather
Green pipe cleaners
Stapler
1/ Cover your child's hand with red paint and stamp it on the white paper. You need one handprint per flower so you can make as many as you want to make a beautiful bouquet. 
2/ Once dried, cut out the handprint.
3/ Staple the handprint to one end of the pipe cleaner. 
4/ Glue green feather at the bottom of the handprint 
Make sure to follow us for more awesome crafts